Rackskab med adgang 24/7/365 Vil du bruge dit eget udstyr, kan du leje et rackskab med adgang 24 timer i døgnet. Datacenter beliggende i Albertslund.
Der er en 100 Mbit med. Der er strøm MED i prisen.
Vælg dit RackSkab.
1/4 RackSkab
(9U)
Strøm med i prisen
Fri Trafik
Beliggende i Albertslund.
Rackskab med adgang 24/7/365
Redundant strømforsyning med nødstrømsanlæg.
1/2 RackSkab
(20U)
Strøm med i prisen
Fri Trafik
Beliggende i Albertslund.
Rackskab med adgang 24/7/365
Redundant strømforsyning med nødstrømsanlæg.
1/1 Rack Skab
42U
Strøm: 1,76,- pr. kWh inkl. moms
Internet inkl. fri trafik: 1.200,- inkl. moms pr. gigabit
Beliggende i Albertslund
Rackskab med adgang 24/7/365
Op til 10Gbps internet.
Our hosting features
Control panel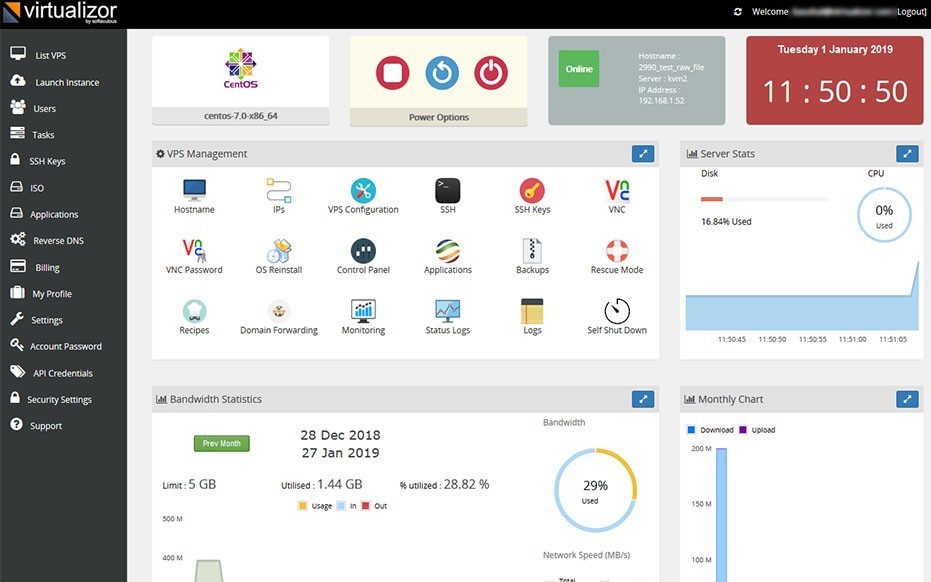 All of our web hosting plans come with cPanel.
All about cPanel
With cPanel you can easily manage every aspect of your web hosting account. From creating custom email addresses all the way to editing your website files. The best thing about cPanel is that it can be accessed easily from any computer with an Internet connection.
cPanel features
cPanel allows you to easily:
Manage your website files with its browser based file manager (e.g upload, delete, edit files)
Create/delete email accounts of your choice (@yourcompany.com) and access webmail via your browser
Install/remove software on your account with the help of Softaculous (Wordpress, Joomla etc)
Create/manage/delete databases and privileges
Manage account backups
View your account statistics (visitors to your website, their country/computer specs etc)
Script installer
All of our web hosting plans come with Softaculous script installer.
All about Softaculous
Softaculous is a application built into cPanel that allows you to easily install from over 150 free scripts/software. Software includes Wordpress, Joomla, phpBB, Magento, Prestashop and many more. No matter which type of website you're looking to build we provide access to software that'll make it easier to create and manage your website/blog/forum/online store!
Popular Softaculous scripts
eCommerce - Magento, Presta Shop, WHMCS
CMS - Wordpress, Joomla, Drupal
Forum - MyBB, phpBB
LiteSpeed!
All of our web hosting packages come with LiteSpeed. LiteSpeed is up to 9 times faster than Apache (standard web server setup). LiteSpeed fully supports everything that Apache uses such as .htaccess and mod_rewrite so if your website loads quickly on an Apache server it will be even faster on our servers!
Why LiteSpeed?
Processes PHP 50% faster, wow! - (Wordpress which is the most popular software uses PHP)
3 times faster than SSL Apache hosting!
Hvorfor vælge os Solid State Disk VPS - Danmark?
Vi levere alle servere på dansk jord
Alle vores servers leveres fra vores danske datacenter som er beliggende i Albertslund.
Vores DDoS beskyttelse
Vi er de eneste i Danmark der kan levere DDoS beskyttelse på alle lag med 500Gbit i migration og som har et specielt optimeret gaming filter.
Vi lytter altid til vores kunder
Hvis flere kunder efterspørg samme ting tager vi det altid med i overvejelsen om det er noget vi vil begynde og sælge.
Support der er hurtig
Vi besvare altid alle henvendelser inden for ret kort tid selv i weekenden og helligedage.